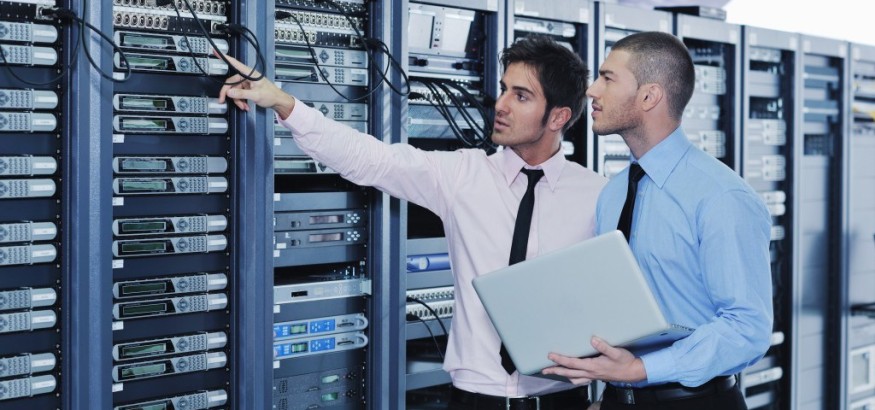 How Reliable is your Server and Network?
How would your business cope if you lost your internet connection?  Or if your entire system went down?  What if you lost important business documents or client data?
CaberLink's

Managed Server & Network

service offers protection against problems that can affect you and your business in a number of ways, including:
Losing customers and employee productivity due to server downtime
Increased repair costs due to unexpected server and network issues
Increased risk of virus and hacker attacks
Poor server and network performance
...all adding more stress and pressure on you and your business.
We take these worries away from you, giving you peace of mind, and leaving you free to focus on your business.
THE SOLUTION
For less than 99 cents a day, we will monitor your systems, to ensure that you are able to keep your business up and running.
CaberLink's Managed Server & Network service identifies small problems before they become huge calamities - saving your business money, hours of downtime, and frustration.
Daily Health and

Safety Check

24/7  Monitoring 

and

Preventative Maintenance

Complete Server & Network Management

Daily automated scan with report
Comprehensive inspection of your systems
Provides detailed information of your IT infrastructure
Saves hours of downtime and frustration
Verifies status of backup and anti-virus

Includes all Daily Health & Safety Checks
24/7 monitoring on all connections & systems
Microsoft & Third Party patch management
Hard drive maintenance
Web protection
Managed anti-virus
Alerts sent when issues found, enabling quick resolutions

Includes all Managed Server & Network

services

Fully outsourced IT support service
Microsoft Certified Help Desk
Unlimited remote and onsite

*

support
ISP and vendor management
Fixed low monthly cost with no surprises
*Onsite support available in Massachusetts only
You can choose our Complete Server & Network Management package, which includes all three services and provides maximum protection and minimum downtime - or take it one step at a time and build up your level of service.
What does it cover?
Affordable, fixed monthly pricing
No Infrastructure to buy or maintain
Rapid installation, configuration, and implementation
Tailor made for small and medium sized business
Server and network infrastructure management
ISP and third party Vendor management
What can you expect from each service?
Service

What it does

Benefits

Daily Health and Safety Check

Automated daily scan of all critical systems and applications
Checks for system vulnerabilities and failed login attempts
Checks your anti-virus status
Checks health of physical disk
Checks backup status

Gives you comprehensive status information about your server's critical systems and applications
Enhances server and network security
Provides an added layer of protection to your critical systems
Results in less downtime

24/7 Monitoring & Preventative Maintenance

24/7 monitoring of network and internet connections
Monitors server performance and stability
Ensures server has all security and critical Microsoft and third party updates
Protects against malicious websites
Protects against viruses and malware
Alerts sent in real-time when problems are identified

Identifies comprehensive range of issues early before damage can be done
Enhances system security
Maximizes the performance of your server and network
Provides a detailed report, delivered to you whenever you need it; daily, weekly, or monthly

Complete Server & Network Management

Builds on the first two services to give complete systems management
Fully outsourced IT support service
24/7 monitoring, alerting, and reporting
Unlimited comprehensive Help Desk and onsite

*

support
ISP and vendor management

Provides maximum security protection
Minimizes downtime
Frees up internal resources for higher revenue tasks
Predictable monthly costs with no surprises
Experience Microsoft Certified support team
Handles all vendor technical support incidents
Gives you peace of mind
Get started with this service for as little as $24.95 per month
Once you decide CaberLink's Managed Server & Network service is right for your business, our team will get you up and running in no time. Call us now or click the "Get Started Now" button below to arrange your free estimate and see how our Managed Server & Network service can ensure your servers and network infrastructure stay secure, reliable, and optimized.
GET STARTED NOW